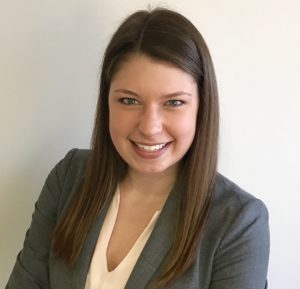 Cayla Ebert, Editor-in-Chief, is a third-year law student from Plymouth, Minnesota and graduated with Highest Distinction from Indiana University in 2015 with Bachelors of Arts in Criminal Justice, Sociology, and Spanish. She studied in the Dominican Republic and Argentina while pursuing her undergraduate degrees, where she fell in love with the language and experiencing an international perspective.
After taking international law courses at the Law School, she became fascinated with the topic and became a Staff Member on the Journal. During her 2L year, Cayla wrote a student note which examines the intersection and effectiveness of labor standards provisions within free trade agreements between the United States and Latin America. Her note will be published in Issue 1 of Volume 27 of the Journal. Through her research and her international law focused coursework, she has decided to pursue a career in international trade and international dispute resolution. This past summer, Cayla was a Summer Associate at an international firm located in Washington D.C. where she had the opportunity to practice international trade law.
This year, as the Editor-in-Chief, she hopes to build a community amongst the Journal's members and work toward creating a passion for publishing exciting, dynamic, and relevant articles within that community in order to make a valuable contribution to the academic international law sphere. Cayla is also looking forward to planning and hosting the Journal's Volume 27 Symposium, which will bring international scholars to the Law School and facilitate impactful and intellectual conversations on cutting edge issues.
Kathryn Burkart, Executive Editor, is a third-year student from Long Island, NY. She graduated summa cum laude from St. Joseph's College in 2012 with a major in Psychology and minors in Political Science and Religious Studies. Prior to starting law school, Kathryn worked as a social worker and served as a Field Team Leader in AmeriCorps NCCC.
Kathryn has interned with the U.S. Coast Guard, where she worked in the International Maritime Law Response Division. Kathryn is also a Student Director for the Detainee Rights Clinic through the Binger Center for New Americans. Kathryn is interested in pursuing a career as a trial attorney, specifically in the areas of criminal or immigration law.
During 2L, Kathryn wrote a student Note analyzing the legitimacy of Ceasefire Agreements in International Law (The Problem with Ceasefire Agreements as Conflict Resolution: A Look at Syria). The Note highlights the issues of the unclear legal status of ceasefire agreements and its impact on conflicts. It proposes a Convention for Ceasefire Agreements to take place to further legitimatize and set guidelines for ceasefire agreements. Kathryn is very excited to serve as Executive Editor this year. She is excited to work with such a wonderful team of Editors and Staff Members!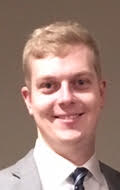 Andrew Miles, Lead Articles Editor, is a third-year student from Bettendorf, IA. He graduated with distinction from the University of Iowa, with majors in Political Science and International Relations.
Andrew has interned at the U.S. Securities and Exchange Commission,  where he worked in the Division of Corporation Finance. As a result of his law school and professional experiences, he has developed an interest in securities law and regulation.
During his 2L year, he wrote a student Note analyzing a recent case in the International Criminal Court (The Prosecutor v. Ahmad Al Faqi Al Mahdi). This case was a first for many reasons: Al Mahdi was the first respondent to ever plead "guilty" in the International Criminal Court, which subsequently made him the first person ever convicted of the crime of destruction of cultural property. The Note highlights the legitimacy the International Criminal Court earned by winning this verdict, but contrasts it with the missed opportunities the Court has had in prosecuting more serious, lethal war crimes, such as rape, marital abuse, and gender-based violence. This year, as Lead Articles Editor, he has enjoyed working with the other Article Editors in putting together two outstanding Issues, in addition to editing articles for the Journal's bi-annual Symposium. He looks forward to serving on the Executive Board while working in a teamwork-based environment that ultimately functions to maintain and continue to improve the success and quality of the Journal moving forward.